Cipher (CPR) is a utility token. The project started on 09/04/2018. Our team is based in India, United Kingdom and New Zealand. Our aim is to create transparency, accountability and safe business. All users/ customers/investors/traders can participate with the project. Cipher is a digital asset that represents partial ownership of the company. It is similar to owning share/stock of the company. We are creating business apps to grow and we build Best Digital applications that function, that are understandable and usable. Cipher mobile apps offer better personalized content activity, faster, interactive, easy to maintain, high scalability, secured data and provides real time application access.
Our aim is to create a unified ecosystem business without conducting an ICO or IEO. It is purely NON ICO business model. We target to distribute the Cipher token when a person utilizes our service or program. Cipher transactions are truly efficient, transparent, and tradeable.
Our Technique and management skills are to create a safe and easy-to-adapt tokenization in our business and easy use of our services or programs. We Included reliable payment integration along with KYC / CDD (Know Your Customer / Customer Due Diligence) with anti-money laundering compliance rules.
Token Distribution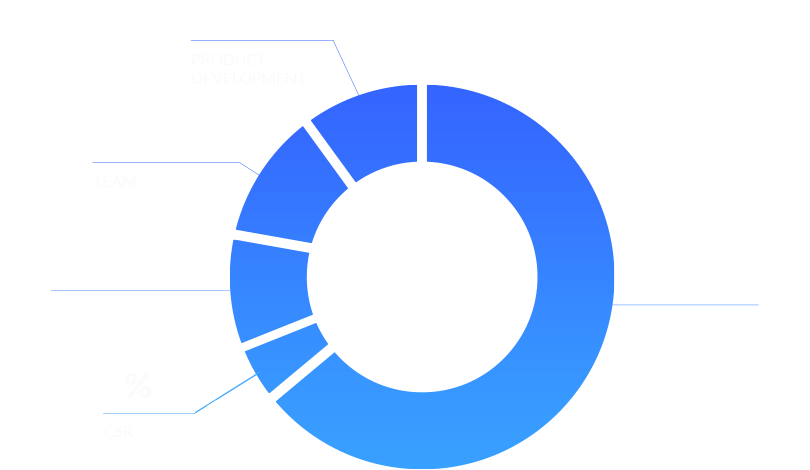 Cipher Protocol
Cipher tokens are created with four blockchain and total minted tokens are 4320000000 CPR (4x1080000000 on each blockchain).
The intention was to create CIPHER tokens with four blockchain is to maintain and to reduce the transaction, transfer and converting fees with Cipher token.
Cipher community will benefit more with multiple blockchain token adoption. Finally, we are migrating to Stellar blockchain due to unavoidable circumstances, reasons and considering future benefits.
No restriction on Migration from CIPHER ERC20 or CIPHER BEP20 or CIPHER ASA to CPR Asset on Stellar blockchain.
Migration facilities available on https://cipherswap.com
Maximum Supply on Stellar blockchain: 4320000000 CPR
FIRST PHASE Total Supply: 1080000000 CPR
CIPHER (CPR) Distribution Method
Max Supply: 4320000000 CPR
1st Phase Minted Total Supply: 1080000000 CPR
First phase supply period 4.5 years started Date: 16 April 2018.
First phase Cipher distribution starting date deferred from 16/04/2018 to 16/02/2021.
New period from 16/02/2021 to 16/07/2025
Distribution calculation as per second, minute, hour, day, month and year.
Per Second: 7.716049382716049 CPR
Per Minute: 462.962962962963 CPR
Per Hour: 27,777.77777777778 CPR
Per Day: 666,666.6666666667 CPR
Per Month: 20,000,000 CPR
Per Year: 240,000,000 CPR
4.5 Years: 1,080,000,000 CPR.
Note: Last day of distribution date may change based on total days.
Distribution count includes Airdrop, CSR, Management, Development team and public share.
Current circulation supply: 78,531,095* CPR as on 14th June 2021 at 00.00.00 GMT.
Note: Second phase distribution based on members voting system and demand of Cipher market. If members voted more than 55% for 2nd phase distribution, then it will be implemented or cancelled.
Thank you.
Administrator.
Cipher Team.
Disclaimer: CIPHER COMPANY reserves all rights.